We take custom orders in copper and silver
Here are 3 copper shapes in 18 gauge that we have cut.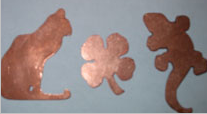 Your custom designs can be cut! The set up fee is $20.00 for copper and $40.00 for silver. This gets the shape into the computer and prepared for cutting. This is a one time fee per design. Send us a computer image file as we can process nearly all computer file types or a paper copy of your design. The design must be in black and white, no grays or shading please. The design will be reviewed and if we can see there may be problems we will discuss it with you. We can cut holes inside your custom design. We have some difficulties if your design is very delicate, with many cutouts or a very convoluted outline. We can cut up to 3 feet by 4 feet, but we will pass on itmes under 1/2" since they do not come out well. So let your imagination run wild.
Let us know what gauge you would like pieces cut in. We carry 26 ga, 24 ga, 22ga, 20 ga and 18ga copper. Your design will be kept for future cuts under your name. Just call us up and let us know which design and how many. If you would prefer, you can tell us that you do not need to have it as a custom piece. In that case, we will put it up on our website and credit your account $0.01 for each cut of your piece for others.
Your custom design will allow you to have one of a kind pieces for sale. Those doing dog shows can have dogs, car show buffs can do cars, the possibilites are endless. All we need is a black and white design.
To do your own custom piece:
Create your design in black and white. Please include at least one dimension.
Email us a computer file, or mail us a hard copy, along with what gauge you would like the pieces cut in.
Receive a quote from us for the cost of each piece. Remember, there is a $20.00 one time set up fee in addition to the cost for each piece.
Order up the number of pieces you would like.
For future orders, just order the number of pieces you would like cut.
If you need a piece resized in the future, there is an additional $5.00 fee plus the cost of the new, resized pieces.
Here is an article written for the San Diego Enamel Guild back in December 2008 that discusses the custom copper cutting that Schlaifer's Enameling offers.   A PDF of that article is available for those that might be interested in such a service.
When friends had a baby, we wanted to give them a gift that was not just something we bought at a store. We came up with an enameled wall hanging of the baby's name.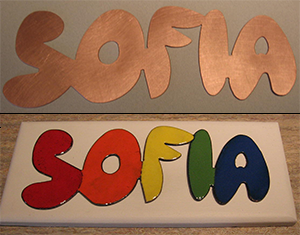 The top image is of the raw copper. It is about 9" across and 1-1/2" high. The bottom image is the enameled copper mounted on a piece of painted wood.